W U M T
Water Usage Management Tool
Conserving water in California is no longer a luxury, or even an option, but is overtly and demonstrably necessary. The Water Usage Management Tool (WUMT) was developed and has been used to do exactly that.
Functions that one might expect a Water Usage Management Tool to provide:
A unified place to collect water meter readings, water usage data
Allow one to tie events to readings, allowing one to better understand usage patterns
Allow one to see graphically what long term and daily usage has been
Allow one to integrate BVWD allocations and see actual water usage in relation to them
Allow one to see how current year water usage compares to previous year's on a day by day basis
Function that one might not think a Water Usage Management Tool could provide:
Graphic warnings of new undetected water system leaks
Graphic warnings of watering timers failing to close
Graphic warnings of watering timers failing to operate
And it's Free
Download documentation file below for all the details....
To try WUMT on your computer: download at least the .exe file (to run) and the .pdf documentation file (to understand how to use); though also downloading the two sample data files will make giving WUMT a trial run more useful, will allow one see better how well it works with real data [data and .exe should be saved into the same folder]. Of note: WUMT is a PC/Windows program, but will run on a Mac using Parallels (or other Windows emulator).
Download Here.....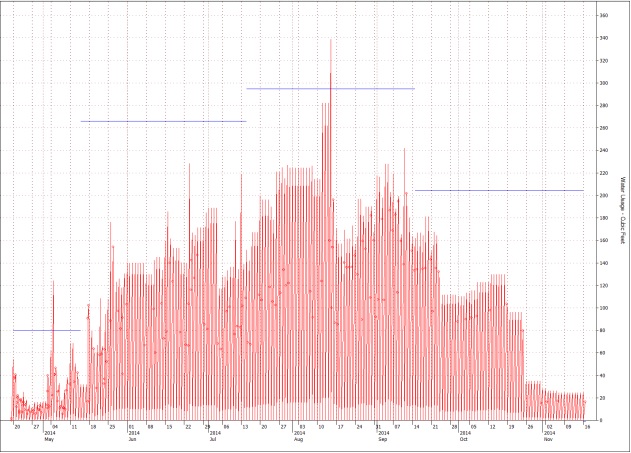 Click for full size sample screen capture