A basic image description of the calculator's screen and key pad is shown below: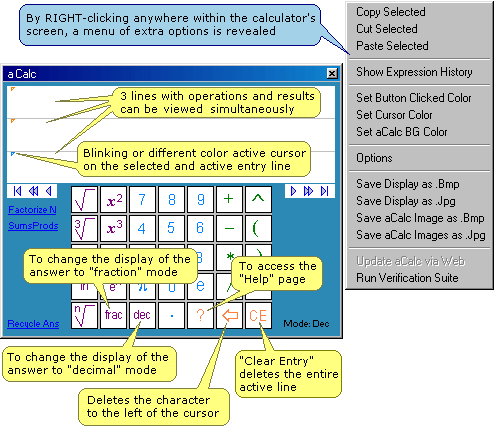 Highlights:
On screen editable full arithmetic expressions.

Color coded multiple level of parenthesis.
Simultaneous on-screen display of three arithmetic expressions and their answers.

Fourteen one click access functions.

Toggle Decimal-Fraction answer display mode.

Optional multiple of fractional p answer display.

Access to all setting options via right hand click on calculator's screen.

All entered expressions automatically saved for later retrieval.

Accepts inputs via mouse click on screen keypad or via keyboard.

Save option for screen display in ".bmp" or ".jpeg" formats.

Functions:

Basic arithmetic operations: addition, subtraction, multiplication and division.
Secondary arithmetic operations: square root, square, cube root, cube, nth root, log (log base 10), 10x, ln (log base e) and ex.
Features:

Operates as a small size window on the monitor's screen.
Expression editing/display can be operated as three separate calculators or in scrolling mode.
Arithmetic expressions and their answers simultaneously displayed.;i>
Accepts inputs via mouse click on screen keypad or via keyboard.
Expressions can be edited and re-evaluated.
Answers can be used as inputs of another expression.
Answer mode can be selected from: Decimal, Scientific notation or Fraction modes.
All entered expressions are automatically stored and can be retrieved later to the display area.
Factoring of integer numbers with list of possible combination of pairs.
Allows for saving the display area as an image in ".bmp" or ".jpg" formats.
System Requirements:
PC running Windows 95, 98, ME, NT or XP.